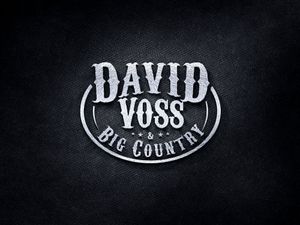 Bio
Although David has roots in Texas, Kansas, and Utah, he has spent more than 20 years calling Arizona home!  And Arizona is the birthplace of his own dream; David Voss & Big Country.
As is the case with most music lovers, music has been used to define the biggest moments of his life.  Each song from his life channels memories and invokes emotions of all types and feelings.
Most of David's musical roots come from his seven brothers and sisters and parents who also love music.   His earliest memories are of his parents filling their home with the varied music of The Beatles, Barbershop Quartet, Gospel Choir Music, Rod Stewart, The BeeGees, John Phillip Sousa, The Beach Boys,  Frank Sinatra, and Neil Diamond. 
Sharing a room with his high school age oldest brother introduced him to bands such as Pink Floyd, Queen, Sex Pistols, Michael Jackson, and a slew of early 80's hairbands such as Ratt.  With his older brother leaving the home after high school, David's older sisters continued to shape his musical tastes introducing him to 80's Rock and Pop.  David listened to everything from U2 , Erasure, and Depeche Mode to Metallica and 80's Glam hairbands such as Bon Jovi, Poison, Def Leppard, Cinderella, Warrant, Motley Crue, and White Snake.   It is interesting that up to that point, there was no exposure to David's current art form and muse; Country Music.
It wasn't until high school that David was exposed and found love for the simplicity and majesty of "Three Chords and the Truth."  A new kid moved into the neighborhood from North Carolina.   This friend listened to almost nothing else but country.  This being the early 90's, Garth Brooks, Alan Jackson, and George Strait were the kings of the moment.  From there,  David fell inline with the mainstream crowd immersing himself with the riffs, harmonies,  and poetic lyrics from the two-stepping tunes and the love songs of the time.   However, David's high school friend gave him more than a taste of the founding fathers such as Hank Sr., Hank Jr., Waylon, Merle, Johnny, Conway Twitty, and David Allen Coe.
Since then, David has continued to love all genres of music amassing hundreds of tapes, thousands of CD's, purchasing thousands of dollars of music from early iTunes, and now enjoying the norms of unlimited streaming.
David Voss & Big Country is the culmination of this history, much life experience,  and much more that still needs to be written.....